Free CRM Software Online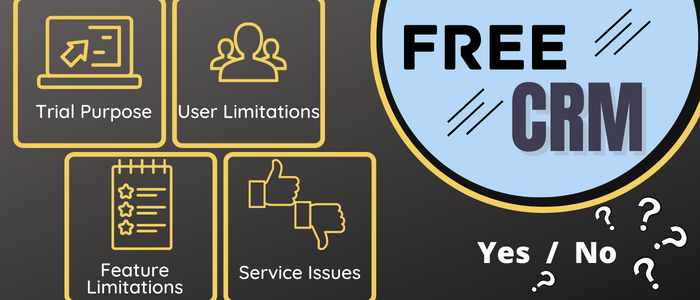 Many CRM providers show a dangling carrot to the customers in the form of FREE CRM Software. Most of the time it would be for single user or may be 2 or 3 users. This helps you to use CRM software without any cost and you can upgrade it to advanced or multi-user versions at anytime depending on your business. The free CRM products has its own limitations of what the company offers which is fair enough.
There are numerous free CRM softwares available in the market today. Browse through the various CRM available and start using it. Remember you always can switch to other CRM products if you are not happy with the one what you have opted for. Thats the advantage of using Free CRM and a hosted CRM provided you don't bother about the data added.
When you have opted for a Free CRM and have started using it, check out the below points which can be helpful for you:

Functionality - Look for useful functions rather than a lot
Customizability - If you need to align your tool to your business, you'll probably need to customize the tool. Most of the free CRM may not provide customization.
Easy of use - CRM system should not only streamline your work easily but also the one which can save time and can be easily operated by your staff.
Speed - Any customer service executive that had to wait on the CRM system while talking to a customer, understands the "need for speed"
Reliability - You need a CRM you can trust and that works when you need to.
But there are reasons to avoid free CRM software solutions. Using a CRM for free may seem tempting especially in today's tight economy. But as it's been said, free doesn't always mean the best. When it comes to improving customer service, there is a need for CRM which is really critical, but turning to a free CRM isn't always the best choice in the long run.
Some of the reasons include:

Hidden costs
Lack of customization
Security/Reliability issue